EVERYTHING IN A NUTSHELL
The big question: Do you need us to help you grow your business?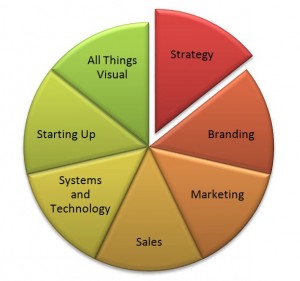 Start your new business in 3 weeks
Strengthen your sales
Marketing that matches your sales plan
Strategy
Systems and Technology
Risk Management
Branding
Creative
People come to us when they want their business to have:
a strategy to move from where they are to where they want to be in 3-5 years
a sales plan that will fulfill their revenue targets
a sales process to convert prospects to customers
a marketing plan that generates enough prospects to fulfill their sales plan
a company brand that effectively communicates what they are offering
tools and collateral that make their brand look good
a plan to manage business risks – because sometimes bad things happen to good companies
visibility of information and control of their processes
After reading the points above, you already know if you need help, even if you don't know exactly where or why. That's okay, figuring it out is part of what we do. Would you like to look a little deeper? Explore the offerings below and see how we help companies grow.
Get your new business up and running in 3 weeks or less. We remove all the obstacles that make it hard to start a new business.
We analyze and improve your current sales plan and methods. You will end up with a stronger, repeatable sales process and know exactly how much sales effort is needed to reach your goals.
Quite simply, we make sure that your marketing plan will generate enough leads so that you can meet your sales targets.
Planning your business is not the same thing as running your business. Do you have a business strategy? What are your five-year goals? What are you trying to achieve? We will bring you through a process to define the path your business will take. You can't be everything to everyone… so what will you be? Let's find out.
Small businesses need systems just like larger businesses do… and there are many more options available than five years ago. If we could keep track of everything in our head we wouldn't need formal systems but in reality all businesses need some level of formal systems. Some involve software while some are processes to follow on a whiteboard or piece of paper. Some things like inventory control require software and a physical system. Examples are financial, production, quality control, customer service, documentation, etc. We help you match systems to your processes so that you don't need to keep track of everything in your head. We help you figure out what areas of your business need software, and what kind of software would be the best match for your business.
Every business has risks and every business should have a plan to address these risks. Things like contract clauses, copyright and trademark protection, insurance, change orders, etc. We help you identify risks to your business and put a plan in place to address them.
Behind every great image, website, business card, banner, or flyer there is a highly valuable concept or thought. It is the very heart of how you speak to your prospects and customers. We will help you develop your brand so that your visual brand matches your written brand matches your spoken brand. Everyone and everything should be communicating the same brand message.
Creative
Almost everyone needs help in this area from time to time… and we have an incredible support team for your creative project. We have designed everything from websites to clothing to buildings… that's right – even buildings. Need specific business collateral like brochures or business cards? No problem. Need to change the look of your storefront? We've done that too. Let us know what your project is right now… and what you would like it to be. We will get you there.